2012 IAFP Annual Convention Wrap-Up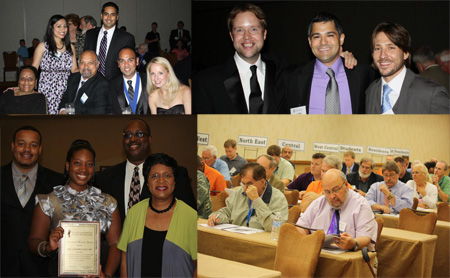 See more photos on our Facebook page
IAFP members from across the state gathered in Indianapolis in July to attend the 2012 IAFP Annual Convention. It was the first time for several years that we have held the meeting in Indianapolis, and this new centralized location resulted in significantly higher attendance figures. Attendees and their families enjoyed meeting in Indianapolis' thriving downtown area, with easy access to local attractions, museums, shopping and dining.
We offered more opportunities to earn CME credit this year, with over 25 Prescribed AAFP CME credits available. Clinical topics and practice management sessions were included on the program, and all CME plans were based on previous attendee evaluations and IAFP member CME Needs Assessments.
We also featured an MC-FP SAM Study Group on Cerebrovascular Disease which again proved so popular that it sold out early. Our facilitator, Curt Ward, MD, led participants through each of the 60 questions in the ABFM's Self-Assessment Module and oversaw interactive discussion among participants.
Many members attended the All-Member Congress of Delegates to have their vote and voice in IAFP business matters. Our Town Hall Dinner was a valuable opportunity to hear new policy topics from the thought leaders of Indiana and the nation. This year we welcomed Bob Phillips, MD, the distinguished director of the Robert Graham Center, to discuss the necessary changes the current graduate medical education funding system requires to support primary care.
Our Annual President's Banquet and Installation of Officers, followed by All Member Family Party, was an exciting event for the whole family. An elegant dinner was held to honor our incoming and outgoing president and the contributors to our Family Practice Stories Book. Later in the evening children joined their parents for a dessert buffet and dancing, with entertainment by the Marlins.
Students, residents and residency faculty were invited to a "Preparing for the Match" panel, followed by a special Congress of Delegates Orientation. The session ended with a reception - a great chance for students to learn more about our residencies. Immediately following the close of the Scientific Assembly we held a picnic at Victory Field, where we cheered on the Indianapolis Indians.
Our Exhibit Show offered an opportunity to learn about the newest clinical advances, and practice management tips & services. A huge thank you to the following companies who were in attendance:
Abbott
Achieve EHR
American Express
American Health Network
Astellas Pharma US, Inc
ATI Physical Therapy
Auxilium Pharmaceuticals
Balance MD
Boehringer Ingelheim Pharmaceuticals
Bristol-Myers Squibb
Care Improvement Plus
Community Health Network
Covidien
Decatur Vein
EmCare
Esacote North America
Essential Molecular/PGX Laboratories
Goodman Campbell Brain and Spine
Grifols, Inc.
Health Diagnostic Laboratory, Inc.
Indiana Academy of Family Physicians
Indiana Army National Guard
Indiana Spine Group
Inquest Health System
iSalus Healthcare
Kowa Pharmaceuticals America
MD Wise
Medical Protective
Medstar Laboratory, Inc.
Merck & Co.,Inc.
Michael H. Fritsch, MD - Otology
MMIC
Northwest Radiology Network
OrthoIndy
ProAssurance
Purdue Pharma L.P.
Reid Hospital
Sanofi Pasteur
South Bend Medical Foundation
St. Vincent
- Peyton Manning Children's Hospital at St.Vincent
- St.Vincent Bariatric Center of Excellence
- St.Vincent Cancer Care
- St.Vincent Critical Care Transport
- St.Vincent Heart Center of Indiana
- St. Vincent Women's Maternal Fetal and Neonatal Services
- St.Vincent Medical Group
- St.Vincent Medical Imaging
- St.Vincent Neuroscience Institute
- St.Vincent One Call Transfer
- VeinSolutions a member of St.Vincent Medical Group
- St. Mary's Hospital, Evansville, IN
SuccessEHS
Teva Respiratory
United States Air Force
Urology of Indiana
Vein Clinics of America
ViroPharma, Inc.
We Care TLC