Please plan to join us in Carmel, IN for the 2018 IAFP Research Day!
All members of the IAFP, including active, resident, & student members, are eligible to submit one abstract in each category (see below) for consideration.
Selected abstracts will be invited to participate in the competition and present either by an oral presentation with PowerPoint slides or by submission of a poster.
A limited number of oral presentations will be allotted 10 – 15 minute time slots (15 for original research and 10 for cases) including a short question and answer session. There will be time allotted for poster viewing and discussion.
At the end of the day cash prizes are awarded to resident, student, and active members (FM faculty are not eligible for cash prizes but are eligible to win awards in special faculty category).
Our Call for Abstracts and further information will be available soon.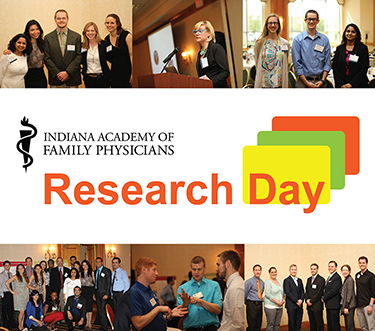 COMPETITION:
The abstract should describe an original work in one of the following categories:
Original Research – Clinical (example: Comparison of Selected Measures Between Group Prenatal Care and Traditional Prenatal Care in a Residency Setting)

Original Research - Medical Education (example: A Study Comparing Traditional PowerPoint Instruction vs. Use of NOEL Simulation Models to Train Residents' Management of Shoulder Dystocia)

Original Research - Performance Improvement (example: Study Implementing New Clinical Work Flow - Well Child Quality Improvement Project)

Case Report

Previously Presented - National (this category is for presentations in categories 1-4 that have already been presented at a national research meeting.)

Previously Presented - IAFP Research Day (this category is for presentations in categories 1-4 that have already been presented at an IAFP Research Day. As the research project has continued, there may be new data or results that may be of interest/importance to the family medicine community.)