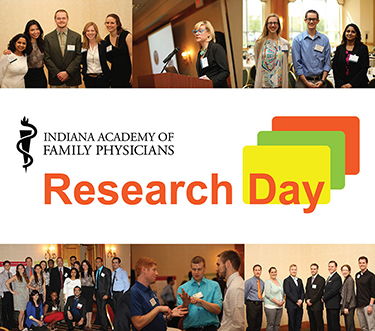 Thursday, May 16 | Ritz Charles, Carmel
We invite you to attend the 2019 IAFP Research Day - an exciting showcase for the best family medicine research in Indiana. The meeting location will be the convenient Ritz Charles in Carmel, IN. Our agenda varies depending on how many abstracts are approved for presentation, but will run approximately from 10am to 4pm.
Competition
We are now accepting abstracts for 2019's event. All IAFP members are invited to take part - student, resident, active, and life members.
Your abstract should describe an original work in one of the following categories:
Original Research – Clinical (example: Comparison of Selected Measures Between Group Prenatal Care and Traditional Prenatal Care in a Residency Setting)
Original Research - Performance Improvement (example: Study Implementing New Clinical Work Flow - Well Child Quality Improvement Project)
Original Research - Medical Education (example: A Study Comparing Traditional PowerPoint Instruction vs. Use of NOEL Simulation Models to Train Residents' Management of Shoulder Dystocia)
Case Report
Download the Call for Abstracts (PDF file)
Download sample abstract judging forms that will be used by the Committee on Research Day (PDF files):
- Performance Improvement
- Original Research
- Case Presentations
- Poster Judging Form - will be used by judges on Research Day
View examples of successful abstracts from past Research Days (PDF file)
The abstract submission deadline was Monday, April 1, 2019, and the IAFP Research Day Committee has begun the abstract judging process. If you have any questions please contact Chris Barry.
Registration
Residency Programs may register faculty and residents using the form below. Individual IAFP members may also use this form. The cost for residency program faculty/individual IAFP members is $75 for the whole day including lunch. Half day registrations are not available. There is no charge for residents.