2019 IAFP Research Day Prize Winners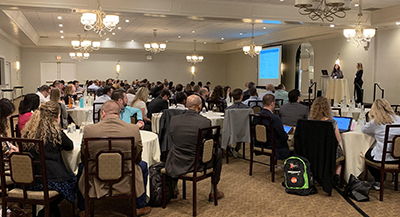 On May 16, a crowd of about 130 family medicine residents and residency program faculty gathered at the Ritz Charles in Carmel, north of Indianapolis, to hear podium presentations, view posters, and enjoy time to network with colleagues and visit with exhibitors. $1,800 in prize money was distributed at the end of the day to award outstanding family medicine research projects from across the state.

A huge thank you to our moderator, Jerry Morris, MD, of Memorial Hospital in South Bend, who kept us on track throughout the day and also serves as the newly appointed chair of the IAFP Research Day committee.
Congratulations to the following prize winners!
Performance Improvement Category
1st - Implementing Pre-Visit Planning to Improve Clinic Efficiency and Provider Satisfaction with Annual Adult Physicals
Author 1: Katherine Chobanov, DO
Franciscan Health Indianapolis Family Medicine Residency
Co-Authors: Melanie Stevens, MD; Jason Rieser, MD
Presenters: Katherine Chobanov, DO; Melanie Stevens, MD
2nd - Medicare Annual Wellness Visit Quality Improvement Project
Author 1: Eric Shoemaker, DO
Fort Wayne Medical Education Program
Co-Authors: Justin Weirich, DO; Brian Henriksen PhD; Amy Dawson, MD
Presenters: Eric Shoemaker, DO; Justin Weirich, DO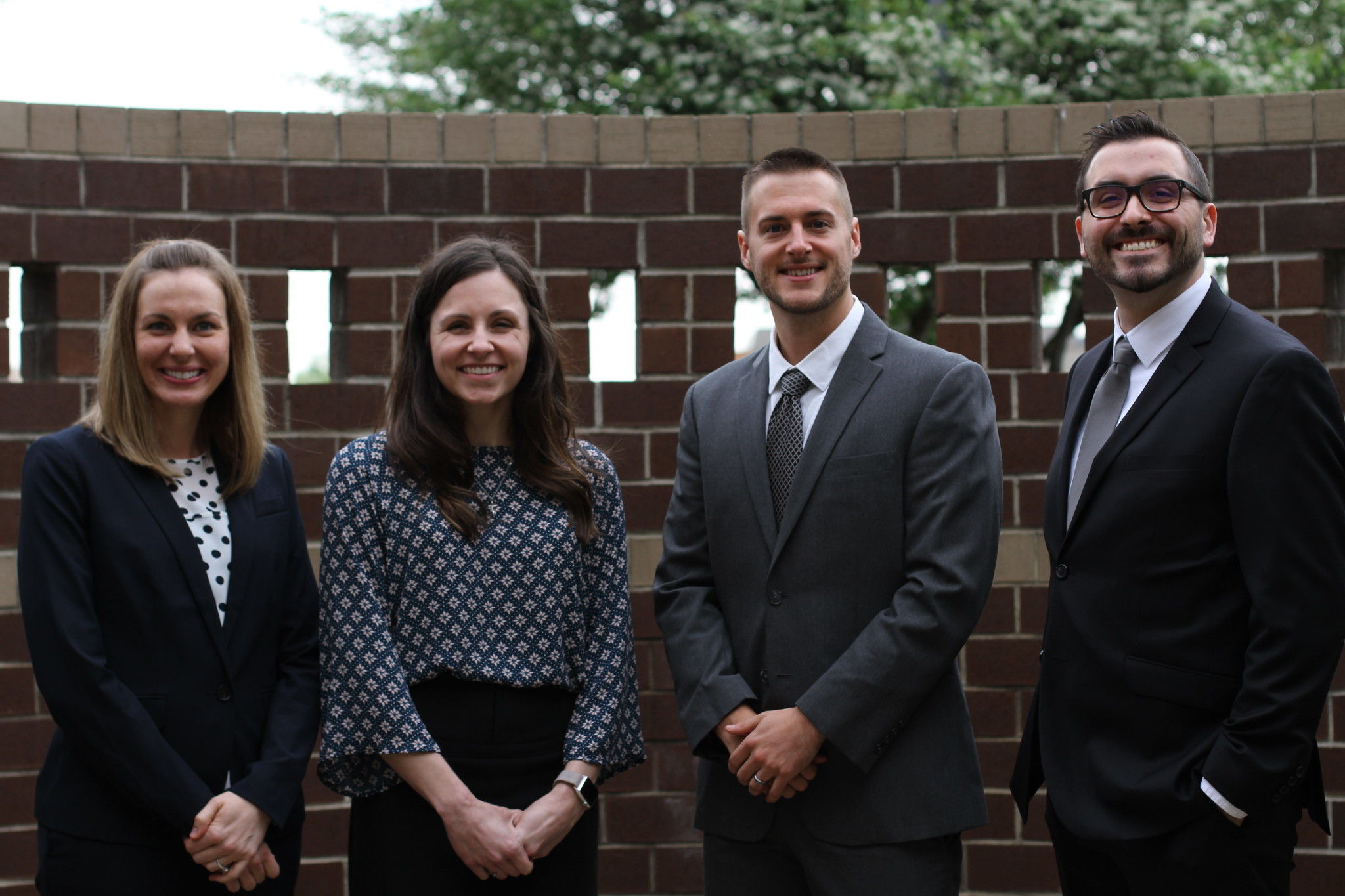 Katherine Chobanov, DO; Melanie Stevens, MD; Justin Weirich, DO; Eric Shoemaker, DO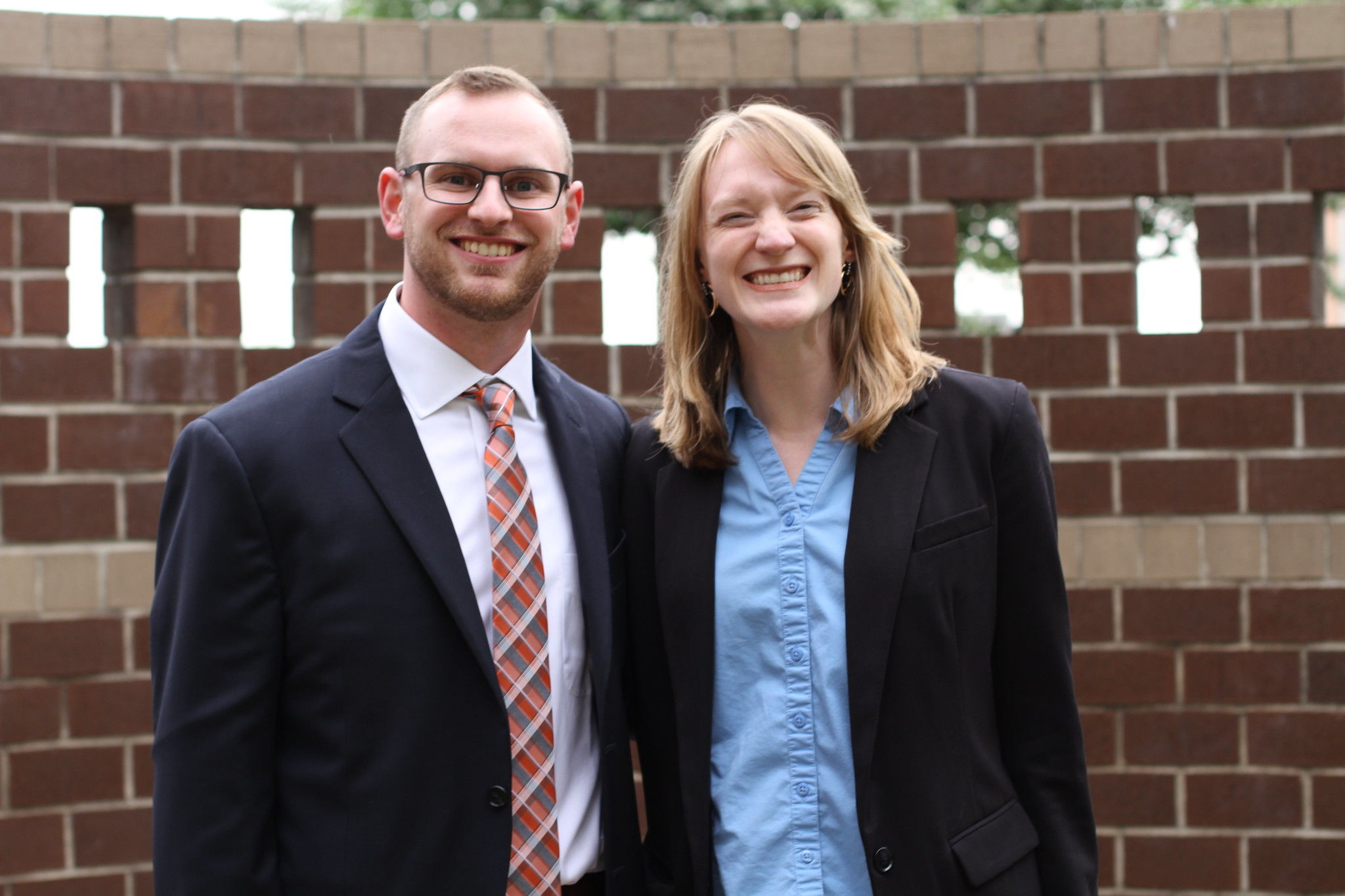 Colin Ray, MD; Alison Case, MD
Original Research - Clinical and Medical Education Category
1st - Evaluating the Burden of Unmet Social Needs in Fort Wayne Families Within the Primary Care Setting
Author 1: Colin Ray, MD
Fort Wayne Medical Education Program
Co-Authors: Brian Henriksen, PhD; Sarah GiaQuinta, MD
Presenter: Colin Ray, MD
2nd - Northeast Indiana Addiction Study
Author 1: Alison Case, MD
Fort Wayne Medical Education Program
Co-Authors: Timothy Kowaleski, DO; Brian Henriksen, PhD
Presenters: Alison Case, MD; Timothy Kowaleski, DO
Case Presentations (oral)
1st - Pancoast-Tobias Syndrome: The Lost Art of Physical Examination
Author 1 and presenter: Jay Bhavsar, DO
Reid Health Family Medicine Residency
Co-Authors: Novera Inam, MD; Tina Reichley, MD
2nd – Alteplase Use To Resolve Cor Pulmonale Associated With A Thrombus- In- Transit Crossing A Patent Foramen Ovale
Author 1 and presenter: Jenna Thiele, DO
Fort Wayne Medical Education Program
Co-Authors: Steven Schwieterman, MD; Brian Henriksen, PhD; Catherine Gilreath, DO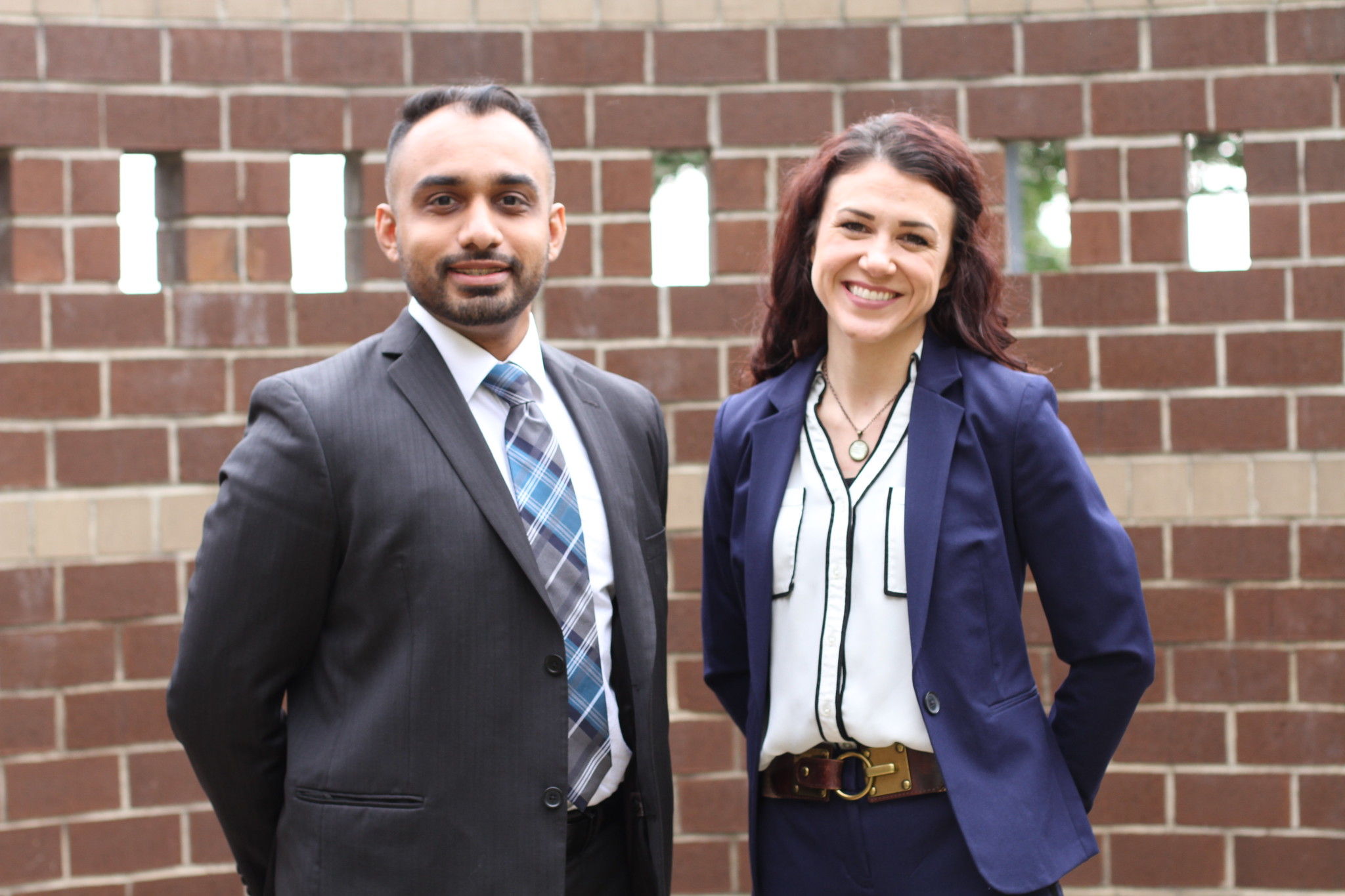 Jay Bhavsar, DO; Jenna Thiele, DO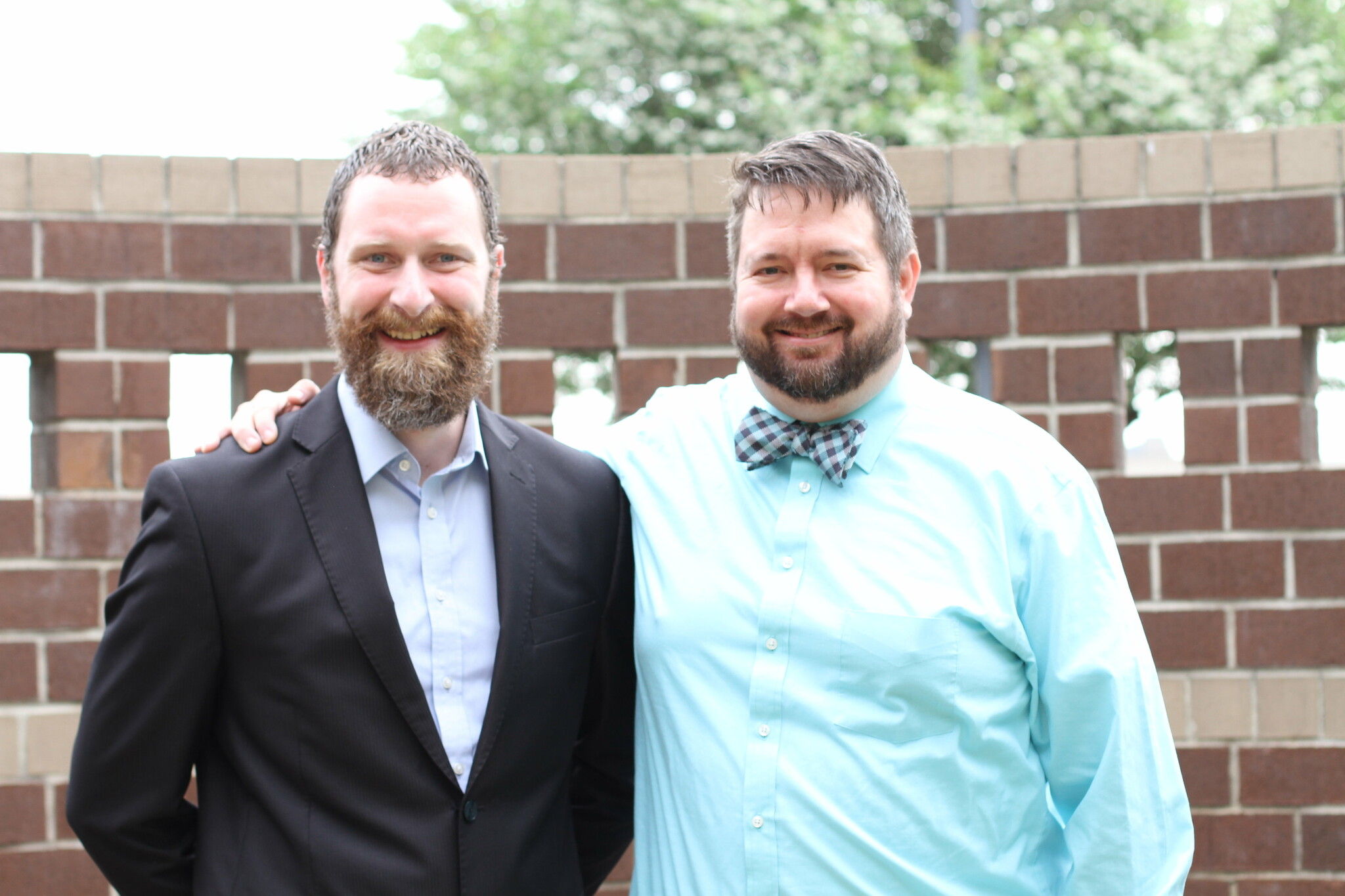 Christopher Gasaway, DO; Timothy Cobb, DO
Posters (spanning all categories)
1st - Case Report: Ring Enhancing Lesions in a 19 Year Old Female
Category: Case Report
Author 1: Jaymin Patel, DO
Community South Osteopathic Family Medicine Residency
2nd - Woman with Family History of Tremor Experiences Worsening Tremors Accompanied by Rapid Functional and Cognitive Decline with Subsequent Death Shortly After
Category: Case Report
Author 1: Christopher Gasaway, DO
Reid Health Family Medicine Residency
3rd - Curious Case of a "Thorn in the Side" Leading to a Diagnosis of Mantle Cell Lymphoma
Category: Case Report
Author 1: Timothy Cobb, DO
Reid Health Family Medicine Residency
Co-Author: Novera Inam, MD
Acknowledgements
Thank you to our podium presentation judges:

Carrie Anderson, MD, program director, Franciscan St. Francis Health Family Medicine Residency Program, Indianapolis
Heidi Harris-Bromund, MD, program director, St. Vincent Family Medicine Residency Program, Indianapolis
Martin F. Wieschhaus, MD, program director, Saint Joseph Regional Medical Center Family Medicine Residency Program, Mishawaka
Thank you to our poster presentation judges:
Stewart Brown, MD, Indianapolis
Jesse Clark, DO, Indianapolis
Amy Dawson, MD, Fort Wayne
Brian Henriksen, PhD, Fort Wayne
Novera Inam, MD, Richmond
Melody Jordahl-Iafrato, MD, Indianapolis
Jacqueline Nonweiler-Parr, MD, Indianapolis
Marion Mahone, MD, South Bend
Thank you to our Research Day Committee for planning the event and judging submitted abstracts:
Gerald Morris, MD, Chair, South Bend
Carrie Anderson, MD, Indianapolis
Marina Behrad, MD, Fishers
Casandra Cashman, MD, Indianapolis
Jesse Clark, DO, Indianapolis
Amy Dawson, MD, Fort Wayne
Brian Henriksen, PhD, Fort Wayne
Supporters and Exhibitors
Thank you to our Platinum Supporters for their generous support of IAFP activities:
Thank you to our exhibitors:
Community Health Network
Franciscan Physician Network
Good Samaritan
Indiana Primary Health Care Association
IU Health Arnett
Reid Health
St. Vincent
Suburban Health Organization