2023 IAFP Annual Convention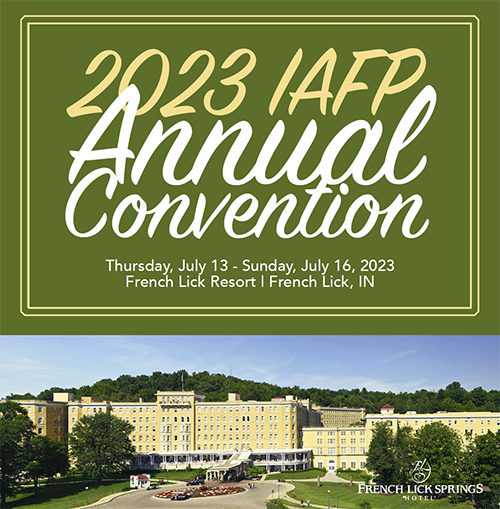 Thursday, July 13th - Sunday, July 16th, 2023
French Lick Resort
| French Lick, IN
Save $100 when you register by June 12 | Free for all members in their first 3 years of practice
Click here to register now | Click here to register for Congress of Delegates ONLY |
Pay for your registration at the IAFP's Square Store
We invite you to join us for the 74th IAFP Annual Convention at the French Lick Resort, in southern Indiana!
Three-day CME program including the unique rapid-fire Essential Evidence program
Four ABFM KSA Study Groups to help you with your board certification requirements:
- Care of Hospitalized Patients
- Asthma
- Care of Women
- Palliative Care
Set the course for your Academy by taking part in our Congress of Delegates, where we discuss resolutions submitted by you and your fellow members
Network and enjoy fellowship with family physicians from across the state at social events
Enjoy fun for the whole family at the historic French Lick Resort
CME Program
"I love the Essential Evidence format - this is so relevant for family medicine really covering what I do every day and focused on benefits for patients." - Past Annual Convention Attendee
The Essential Evidence program is a unique CME course that uses abstracts of recent literature as the substrate. Each 30-minute talk is a rapid fire review of recent research studies about a particular topic with time for Q&A at the end of each presentation. In 2023 we will welcome Henry Barry, MD; Gary Ferenchick, MD; and Kate Rowland, MD, who will cover these topics:
Musculoskeletal Update; Hypertension Update; Sleep; Headache; Depression & Anxiety; Atrial fibrillation/Anticoagulation; Pediatrics Update; Guidelines You Can Trust; Diabetes Update
We'll also offer a 2 day hot topic CME clinical program and a Town Hall meeting with the Indiana State Department of Health's Lindsay Weaver, MD. Earn up to 16 AAFP Prescribed CME Credits PLUS 8 AAFP Prescribed CME Credits and 10 ABFM Certification Points per KSA Study Group.
View a detailed CME agenda and Annual Convention pricing here (PDF file).


Set The Course For The IAFP: Call For Resolutions
Our Congress of Delegates (7/14 & 7/15) gives each member a chance to take an active role in Academy business. All members are invited and encouraged to attend as every member is a delegate, and every delegate will have a vote and voice. The Congress considers resolutions submitted by you and your colleagues on hot topics such as legislative issues and urgent educational needs. Find out how to write and submit a resolution here.


Social Events and Fellowship
On Friday evening after the reference committees, we invite you to join us for a reception to reconnect with old friends and make new ones. Our popular Trivia Night will return on Saturday, July 15. This family-friendly event is hosted by
Hambone's Entertainment
. Test your knowledge and come dressed in costume. We will also have a photo booth available to capture some fun memories! Dinner and drinks will be provided.
Location: French Lick Resort - The Midwest's Premier Resort Destination
Visit The Stables for a horse or pony ride. Play golf at Valley Links Golf Course, or a round of FootGolf with the family. Get on a roll in Pluto's Bowling Alley. Have Afternoon Tea in the West Baden Springs Hotel atrium. Take a free ride on the rail trolley. With pools, bike rides, hiking trails and more, there's fun around every corner!
Visit
www.frenchlick.com
for details.
Hotel Reservations
Despite soaring hotel room rates worldwide, we have been able to secure the same low rates for IAFP members as in recent years:
just $159 during the week and $199 on the weekend.
Act now to take advantage of early bird savings and to secure your hotel room. The French Lick Hotel frequently sells out especially on summer weekends!
Book your room now at this dedicated website:
https://book.passkey.com/e/50362635
If you prefer, call 1-888-936-9360 and mention Group Code: 0723IAF.
Registration
Click here to register now | Click here to register for Congress of Delegates ONLY |
Pay for your registration at the IAFP's Square Store
Full conference registration for IAFP members is just $495.
Registration fees are listed
here
.
Questions? Contact the IAFP at
iafp@in-afp.org
or call (317) 237-4237.