Austin, Indiana's Will Cooke, MD, Is AAFP Family Physician Of The Year
IAFP Member Receives National Award For Efforts To Heal Austin, Indiana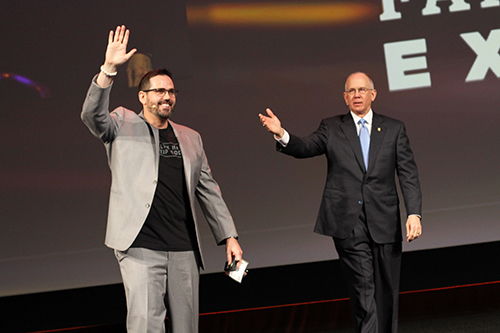 Drugs and Disease Can't Break Town's Spirit
William Cooke, MD, has been fighting the good fight since 2004 when he first began his family medicine practice in Austin, Indiana. Cooke had always planned to practice in a rural, underserved area of his home state, but he was shocked by the toll that decades of high unemployment and generational poverty had taken on his new community. There was a hunger for narcotics way out of proportion for a town of only 4,300 residents.
Pain killers, anti-anxiety drugs and muscle relaxers were the drugs of choice. Certain neighborhoods revealed a life in rural America much worse than Cooke had ever imagined, and things were about to get a whole lot worse.
By February 2015, the tiny rural town of Austin found itself in the crosshairs of two deadly epidemics. The worsening opioid crisis led Austin to become what the CDC confirmed was the epicenter of the country's most serious drug-related HIV outbreak. Not only were members of the community dying of overdoses, they were also suffering the dire consequences of sharing dirty needles. As these two epidemics raged, Cooke welcomed all people to his clinic who needed help, regardless of their illness or ability to pay.
Cooke's unrelenting commitment to his patients, as well has his many successes, have earned him national recognition by the American Academy of Family Physicians as the AAFP's 2019 Family Physician of the Year. The award honors one outstanding American family physician who provides compassionate, comprehensive care, and serves as a role model in his or her community and to other health professionals.
Cooke knew he couldn't save Austin alone. Because there were not enough health care professionals trained in HIV testing to determine the scope of the epidemic, he sent members of his own clinical team to multi-day training in Indianapolis. In addition, Cooke and his staff members participated in several week-long in-service training sessions with experienced clinicians to improve staff understanding of, comfort level with, and capability to care for people living with HIV.
Syringe service programs that would help stem the spread of HIV and hepatitis C were illegal in Indiana. Cooke advocated to change the minds of leaders who didn't understand the vital need for this critical, local response tool. His efforts helped in the 2015 opening of Scott County's needle exchange program. The program serves a county of approximately 24,000 residents and also offers free HIV testing, needle safety education, job counseling, and referrals to drug treatment and other social services. A mobile needle exchange soon followed, and more than 5,000 clean syringes were given out in the first two-week period.
As the outbreak began to wane in late 2015, more than 180 cases of HIV had been identified. Ultimately, 236 people were diagnosed. In response to this community need, Cooke became a nationally certified expert in the treatment of HIV and board certified in addiction medicine. He also became the first family physician in the state to be approved to treat patients with hepatitis C. In addition, he rallied other community health workers, churches, and local community leaders to help those in need of food, shelter and other social services.
Cooke and his team at Foundations Family Medicine also provide the full spectrum of primary care services to people in Austin who might otherwise go without care. Since founding the clinic in 2004, Cooke has worked to expand outpatient services to include direct access to maternal child health, advanced diabetes care, telemedicine services, school-based clinics, integrated behavioral health, community nursing, and more. He also provides care in the local hospital, where he runs a hospitalist program, serves as an emergency department physician, and performs endoscopies and minor surgeries.
"My training in the specialty of family medicine is honestly the only training that could have prepared me to provide this level of comprehensive care to the people of my community," Cooke said. "I've seen a lot of suffering, but I've also seen a lot of joy and progress."
As of today, 76 percent of Cooke's patients with HIV have undetectable viral loads and are therefore unable to spread the disease to others. That compares to 49 percent nationally. Cooke gives plenty of credit to his clinical team who, in addition to their regular job duties, stepped up and quickly learned how to care for people with this chronic disease.
Drug use remains a problem in Austin, but the community is slowly beginning to heal.
"What people need to understand is that stories of drug abuse, addiction and HIV are not what define Austin and other cities struggling with this epidemic," Cooke said. "Each community has its own story and obstacles to overcome. The success stories will be of the communities that work together to meet people's needs at the local level."
The recovery community in Austin is leading the way, and Cooke remains deeply involved in the care of people who once haunted the streets of Austin in search of their next "score."
"I refuse to accept that access to being healthy is a privilege. We must put an end to stigmatizing and marginalizing people. People must come before policy," he said. "We must insist on recognizing the intrinsic value of every single life. I foresee a time when every child in Austin has an equal chance to grow up healthy."
Austin still has a way to go, but Cooke is confident that his community, working together, can do something transformative and lasting. He has every intention of continuing to advocate for his patients' and community's needs, while continuing to provide the compassionate care his patients deserve to ensure long-term good health.
Cooke earned Bachelor of Arts degrees in biology and chemistry from Indiana University Southeast in New Albany, followed by a Masters of Science in biology from Indiana University – Purdue University Indianapolis and a Masters in Medical Science from the American University of the Caribbean. He earned his medical degree from Indiana University School of Medicine in Indianapolis and completed his family medicine residency at Ball Memorial Hospital in Muncie, Indiana.
Cooke is board certified by the American Board of Family Medicine, the American Academy of HIV Medicine and the American Society of Addiction Medicine. He has earned the AAFP Degree of Fellow, a degree awarded to family physicians who are distinguished among their colleagues through their service to community, professionalism, advancing health care, teaching, and continuing medical education.