Call for Cases: Increase of Serratia marcescens Possibly Associated with Central Venous Catheter Use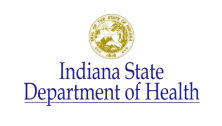 Indiana Health Alert Network Advisory – April 12, 2018
The Indiana State Department of Health (ISDH) is conducting an ongoing investigation of Serratia marcescens among patients with central venous catheter use. In Indiana, six cases of Serratia marcescens have been identified that meet the revised Centers for Disease Control and Prevention (CDC) case definition.
The following case definition is currently being used to identify cases: a patient with central venous access having a positive blood culture for Serratia marcescens collected on or after January 1, 2018 and hospitalized in a facility reporting two or more cases on or after January 1, 2018.
If your facility has patients that meet this definition, please gather the following information:
Age and sex
Patient transfer between units with applicable date(s)
Date of positive culture, location at time of positive, and availability of isolates
Primary and secondary diagnoses
Whether bacteremia was hospital acquired or present on admission
Common exposures of these patients, if applicable (time, unit, common medications, common healthcare workers, etc.)
Line care products used on these patients (including, but not limited to, saline and heparin flushes, line caps, skin prep, and line care kits)
National Drug Code (NDC) and lot numbers of products used for the patient
Please report cases of Serratia marcescens that meet the case definition to Rachel Cathey, ISDH Healthcare-Associated Infections Epidemiologist, at rcathey@isdh.in.gov or 317-234-2805. If your facility meets case definition, please hold any isolates for further testing.