Dairy and Diabetes Health
Dairy and Diabetes Health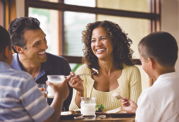 Diabetes remains a public health concern around the world. The prevalence of T2D in the U.S. continues to rise among all subgroups in the population. Although once considered primarily an adult disease, T2D is being diagnosed more often in those under 20. Dairy foods (milk, cheese and yogurt) can have a role in its management and is associated with a reduced risk of developing type 2 diabetes (T2D).
According to the National Diabetes Statistics Report, T2D accounts for 90-95 percent of diagnosed cases in adults. The 2015 Dietary Guidelines Advisory Committee found an association between dairy foods and several health benefits, including lower risk of diabetes, metabolic syndrome, CVD and obesity. A growing body of research supports either the association between dairy food consumption and a reduced risk of T2D or no increased risk, in a range of population groups. The unique nutrient package of dairy foods may be contributing to the observed association between dairy and T2D risk. For example, researchers are finding that dairy proteins and dairy fats may play a role in reducing T2D risk. In addition, results of a randomized crossover trial indicated the simple substitution of dairy foods for sugar-sweetened foods and beverages may help slow the progression from pre-diabetes to diabetes for those at risk of developing T2D.
The American Dairy Association Indiana (ADAI) offers practical tips, tools and resources to help promote a healthy lifestyle. Visit WinnersDrinkMilk.com for more information and to order nutrition materials. ADAI serves as a resource to provide detailed information about the benefits of dairy and to answer questions that you or your patients may have. Please contact Hanna Kelley, RDN, CD for further information or to sign up for Moooving Notes, ADAI's newsletter for health professionals.