Dr. Alan W. Sidel Memorial Family Medicine Scholarship
IAFP Past President Alan W. Sidel, MD, passed away in May, 2013. His family have set up a memorial family medicine scholarship with the IU School of Medicine. Making a gift is a wonderful way to memorialize Dr. Sidel, who was passionate about the value and importance of family medicine. Download a printable donation card here, or to make a gift using your credit card, please call IU Foundation Gift Services at 1-800-558-8311.

In Memoriam: Alan W. Sidel, MD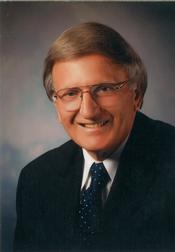 After a short illness, Alan Wayne Sidel, M.D., passed away at his home in Fort Wayne on Sunday, May 26, 2013 with family at his side.
He was born in Garrett, Indiana on December 7, 1938 to parents Wayne B. and Gladys C. Sidel. He attended Indiana University where he earned his Bachelor's, Master's, and Medical degrees. He was a Captain in the Air Force from 1966 to 1968, stationed at a strategic air command base in Columbus, Mississippi prior to moving to Fort Wayne, where he practiced Family Medicine from 1968 until 2013. Dr. Sidel was the Medical Director of several nursing homes.
He was a past president of both the Fort Wayne Medical Society and also, the Indiana Academy of Family Physicians. Dr. Sidel was an Assistant Professor of Medicine for Indiana University School of Medicine teaching many students during his career. He was active with the Fort Wayne Rescue Mission and Toastmasters organization.
His interests included spending time with family, gardening, horticulture, fishing, hiking, reading, and golfing. He also had a personal interest in nutrition and well-being. Surviving are his wife, Jerri L. Sidel, of Fort Wayne; son, Dr. Todd (Jenifer) Sidel of Leo; daughter, Natalie (Shawn) Holstein of Zionsville; sister, Sheila (Dave) Schimmele of Angola; uncle, Bud (Naomi) Hoot of Coldwater; eleven nieces and nephews; nine great-nieces and nephews; ten grand-children; and many cousins who all loved him dearly.