Eastern Equine Encephalitis Virus Activity Detected in Northern Indiana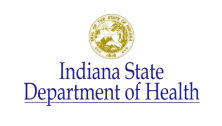 Indiana Health Alert Network Notification – Sept. 12, 2019
Eastern equine encephalitis virus (EEEV) is a reportable mosquito-borne virus that can be transmitted in Indiana by mosquitoes of the genera Aedes, Coquillettidia, and Culex. While it is a rare disease, EEEV can cause serious illness, and approximately one-third of all cases are fatal. Many people who recover will have severe long-term effects from the infection.

Since mid-August of this year, three horses and one group of mosquitoes from Elkhart County have tested positive for EEEV. No human cases of EEEV disease have been reported in Indiana in 2019; however, three human cases have been reported in southwestern Michigan this year, one of which was fatal.
Read more here (PDF file).