IDOH Guidance For Implementation Of Lead Screening Requirements From House Enrolled Act (HEA) 1313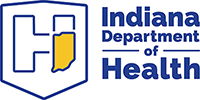 IDOH has released "Universal Lead Testing and Reporting Guidance," to assist you in complying with new laws that require physicians and other healthcare professionals to confirm that children have been tested for lead and to offer testing to the child's parent/guardian if they have not. Please note, this is a corrected version, as the original incorrectly identified the time period during which lead testing at year 1 could be done. The correct range for year-1 testing in children is supposed to be between 9 and 15 months in age. This law will go into effect on January 1st, 2023. We will provide any additional updates on guidance as it becomes available.
Find the updated guidance here (PDF file).
IDOH has also provided a blood lead test refusal attestation form (PDF file) to document that the testing has been offered and refused.