Indiana Working To Minimize Appointment Disruptions Following Pause In Use Of Johnson & Johnson Vaccine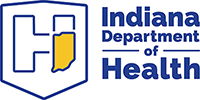 At the direction of the U.S. Food and Drug Administration (FDA) and Centers for Disease Control and Prevention (CDC), the Indiana Department of Health has temporarily paused the administration of Johnson & Johnson (Janssen) vaccine following an announcement about a rare adverse event from the federal organizations.
In the meantime, the state Department of Health is encouraging vaccination sites statewide to use existing doses of Pfizer or Moderna if available to fulfill previously scheduled Johnson & Johnson appointments. The state also has supplied the two-dose Moderna vaccine for a mass vaccination clinic at the Indianapolis Motor Speedway. The clinic will continue through Sunday.
The FDA and CDC issued their guidance after a type of blood clot called cerebral venous sinus thrombosis (CVST) was seen in combination with low levels of blood platelets (thrombocytopenia). This has been found in only six U.S. patients who received the Johnson & Johnson vaccine. Read the full press release here.
Read the Indiana Health Alert Network Notification here (PDF file).
Read the CDC Health Alert here (PDF file).