Joint Letter On Eliminating Congenital Syphilis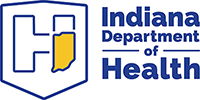 January 20, 2021
Dear Colleagues,
Congenital syphilis is on the rise nationally and in Indiana. Nationwide, there has been a startling increase in the number of congenital syphilis cases. Between 2015 and 2016, the rate of congenital syphilis rose 27.6% across the U.S. In Indiana, a high of 13 cases were reported in 2019 from all areas of the state. Today, we are writing to ask you to take these five specific actions to help eliminate congenital syphilis in our state. Please read on for additional detail and context.
Test all women for syphilis early in the first trimester, and test again at 28-32 weeks if the woman is high risk.
Consider a woman high risk if she has missed a prenatal care appointment; make every attempt to bring patients back for care, and offer a syphilis test at the first opportunity.
For women having trouble following through with testing recommendations, consider using a rapid syphilis point of care test.
Be sure to order the correct tests in a timely manner, to utilize confirmatory tests, and to order titer for all reactive tests.
Treat all new diagnoses with bicillin. Treatment must be administered at least 30 days before delivery to prevent congenital syphilis.
The Centers for Disease Control and Prevention (CDC) recommends syphilis screening at the first prenatal visit for all women; at 28-32 weeks gestation, and at delivery for women at high-risk of infection. Indiana state code requires testing in the first and again in the third trimester if the woman is deemed high-risk for acquiring syphilis by the overseeing provider. (Note: "High-risk" can include a patient who has a partner with infectious syphilis; a patient with a history of syphilis; any women who are exchanging sex for housing, money, resources or something needed [Commercial Sex Work]; and women with partners who have other sex partners.)
Ask #1 - Due to the increases we are seeing across the state in all areas, we ask you to ensure that you test all women for syphilis early in the first trimester, and then test again at 28-32 weeks if there is any indication that the woman is high-risk.

After a review of the previous cases in Indiana over the past 5 years, the Indiana State Department of Health's STD Prevention Program has also identified that among the congenital syphilis case mothers, many had difficulty following through with prenatal appointments and lab testing (due to such factors as lack of benefit time at work, transportation, child care, housing or income insecurity). Thirty percent of mothers with congenital syphilis births are infected by their steady sex partner with whom they believe themselves to be in a monogamous relationship.
Ask #2 - Please consider anyone who has missed a prenatal care appointment to be in this high-risk category. These women will need extra attention to ensure optimal outcomes. Please consider identifying these high-risk women by going through your EMRs and determining who has missed an appointment. Please make strong attempts to contact them to return to your office for care, offering them a syphilis test immediately, again in the 3rd trimester and again at delivery. Please notify your local Disease Intervention Specialists, STD and HIV investigators, to help with field follow up on these women if they are unresponsive to you.


Ask #3 - Please consider using the rapid syphilis point of care test, the Syphilis Health Check, in your office for women having difficulty following through with your recommendations for blood testing. This testing is a finger stick and results can be given in 20 minutes for those who are failing to follow up with lab appointments.


Ask #4 - It is critically important that the correct tests be ordered in a timely manner to correctly distinguish a possible new infection from old infection. Whether your lab performs the treponemal test or the non-treponemal test first it is imperative that both be performed if one is reactive, and that a titer be performed on all reactive RPR tests.


Ask #5 - The next necessary step in preventing congenital syphilis is timely provision of the only adequate treatment for pregnant women, which is 2.4 MU bicillin L-A, IM, for syphilis infection identified as being less than one year's duration. This treatment must be administered a minimum of 30 days before delivery to prevent congenital syphilis, further emphasizing the need for timely testing to occur between 28-32 weeks if a woman is at risk for syphilis to allow for appropriate treatment to be administered on time. Local Disease Intervention Specialists will assist you in staging the case as less or more than one year because they have access to patient's previous syphilis testing history from other providers in and out of state.
Congenital syphilis is an entirely preventable infection and represents a failure in the public health system each time we have one single case. Together we can improve maternal mortality and reduce infant mortality if we can increase timely testing and treatment of pregnant women. Let us know if you have any questions or concerns.
Thank you for your help!
Kristina Box, MD, FACOG - State Health Commissioner
Brownsyne Tucker Edmonds, MD, MPH, MS - Indiana Section ACOG, Chair
Nicole Boersma, MD, FAAFP - President, Indiana Academy of Family Physicians
Darla Berry, MSN, CNM - President, Indiana Affiliate, American College of Nurse Midwives
Angela Thompson DNP, FNP-C, BC-ADM, CDCES, FAANP - President, Coalition of Advanced Practice Registered Nurses of Indiana
Beth McIntire, RN, MSN, WHNP-BC, C-EFM - Indiana AWHONN Section Chair