Learning Collaborative To Improve HPV Immunization Coverage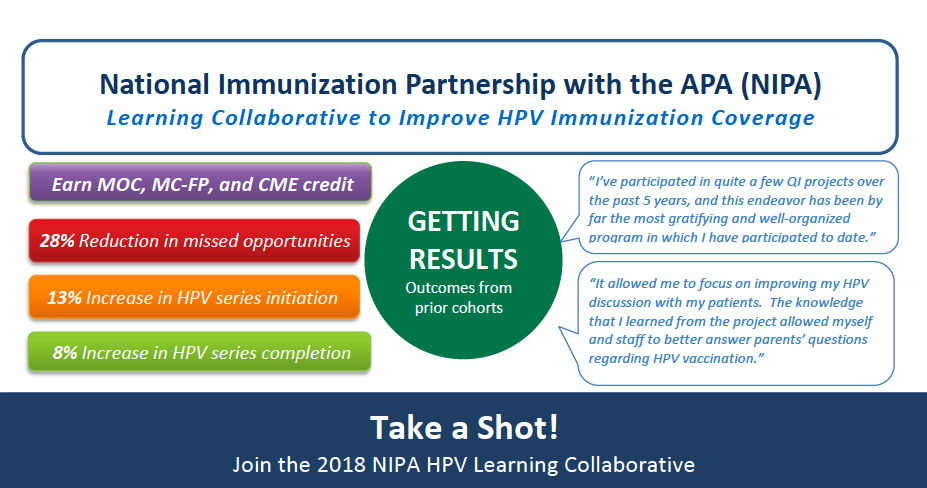 *RESPONSE NEEDED BY DECEMBER 15*
The Child Health Improvement Partnership Indiana (CHIP IN for Quality) is excited to offer practices in our state the opportunity to take part in a national adolescent immunization initiative, "National Immunization Partnership with the APA" (NIPA). This multi-state quality improvement (QI) research project, which is funded by a grant from the Centers for Disease Control and Prevention (CDC), is a collaboration between the National Improvement Partnership Network (NIPN) and the Academic Pediatric Association (APA) and is led by our colleagues at the Vermont Child Health Improvement Program (VCHIP). Indiana is among the states to enroll in the fourth cohort of NIPA and engage in this project to improve HPV immunization coverage rates in primary care settings.
Benefits of project participation (scheduled to commence January 2018 and conclude September 2018):
Earn 25 credits towards ABP Maintenance of Certification (MOC), Part 4 or Maintenance of Certification for Family Physicians (MC-FP) from the American Board of Family Medicine, Part IV
Receive QI coaching and support, including project-specific customized tools and materials
Receive assistance in assessing your system for HPV vaccine delivery, recognizing barriers, and selecting evidence-based strategies to test with PDSA cycles as well as monthly feedback reports tracking progress
Increase knowledge and build skills on topics such as delivering a strong provider recommendation for HPV vaccine, reducing Missed Opportunities for vaccination and adolescent-friendly office systems
Help raise the 2016, series completion rate of 49.5% (girls) and 37.5% (boys), to meet the Healthy People 2020 goal of 80% while increasing the potential to prevent HPV-related cancers
Please see this flyer for more information, including requirements for participation.
We hope that you will consider joining us for this exciting project.
If you are interested in participating, please contact Rachel Wallace-Brodeur at Rachel.Wallace-Brodeur@med.uvm.edu or 757-484-1856, or you may also contact your CHIP IN for Quality lead for this project, Mary Delaney at mwdelane@iu.edu. Thank you!
Again, a response is needed by December 15!