Legionellosis Testing and Building Reopening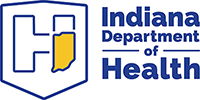 The Indiana Department of Health (IDOH) is alerting healthcare providers to an anticipated seasonal increase in Legionella infections combined with the associated potential increase of cases resulting from building reopenings. IDOH is sending this notification to remind all healthcare providers to test for Legionella when evaluating adults with symptoms of pneumonia, even during the COVID-19 pandemic.
Read the full alert here (PDF file).