New Free Zika Virus Continuing Education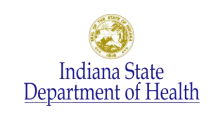 Indiana Health Alert Network Notification – October 18, 2018
The Centers for Disease Control and Prevention's Morbidity and Mortality Weekly Report (MMWR) and Medscape have introduced a new FREE continuing education (CE) activity for the recent Vital Signs article: Zika-Associated Birth Defects and Neurodevelopmental Abnormalities Possibly Associated with Congenital Zika Virus Infection – US Territories and Freely Associated States, 2018. Upon completion of this activity, participants will become aware of the frequency and type of birth defects and neurodevelopmental abnormalities possibly associated with congenital Zika virus infection and understand the clinical and public health implications of these findings.
To access this FREE MMWR / Medscape CE activity, please click here. If you are not a registered user on Medscape, you may register for free or log-in without a password and get unlimited access to all continuing education and other Medscape features.

Zika Virus Testing at ISDH Laboratories to End December 31, 2018
As of December 31, the Indiana State Department of Health (ISDH) Laboratories will no longer be offering Zika virus testing. Testing for Zika virus is now available from multiple commercial laboratories. Health care providers wishing to request Zika virus testing are encouraged to communicate with their laboratory about the best way to order commercial testing.
As a reminder, the CDC recommends Zika virus testing for:
Anyone with possible Zika virus exposure (living in, traveling to, or having unprotected sex with someone who lives in or traveled to an area with risk of Zika) who has or recently experienced symptoms of Zika.
Symptomatic pregnant women with possible Zika virus exposure.
Asymptomatic pregnant women with ongoing (daily or weekly) Zika virus exposure.
Pregnant women with possible Zika virus exposure who have a fetus with prenatal ultrasound findings consistent with congenital Zika virus infection.
Testing of asymptomatic pregnant women without ongoing exposure is no longer routinely recommended to address the increased probability of false positive results in the setting of the declining prevalence of Zika virus disease. Healthcare providers may consider testing of asymptomatic pregnant women on a case-by-case basis using a shared physician-patient decision-making model.
Please contact Taryn Stevens, Zoonotic and Vector-Borne Epidemiologist, at tastevens@isdh.in.gov or 317-234-9727, for more information.