New LGBTQ+ ECHO Tele-mentoring Program Launches September 12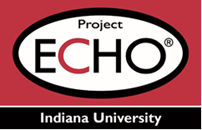 "Project ECHO (Extension for Community Healthcare Outcomes) is a collaborative model of medical education and care management that empowers clinicians everywhere to provide better care to more people, right where they live." - About ECHO

The ECHO Experience
12 months of free training, technical assistance, and coaching for you and your health center, including continuing education (CMEs) and professional development that is as easy as logging on your computer for an ECHO clinic.
Learning that is ongoing, interactive, and relevant to your own community and individual patients' care.
Access to expert knowledge from the Eskenazi Transgender Health and Wellness Program, the Riley Gender Health Program, the IU School of Medicine, and the IU Richard M. Fairbanks School of Public Health at IUPUI while you develop your own expertise that will set you apart in your community and to patients.
Improve the care you deliver and the relationships you have with your patients while reducing the barriers they face in accessing the care they need (e.g. transportation, wait times, delay in seeking care, etc.).
LGBTQ+ Health ECHO
Through the use of the groundbreaking Project ECHO model, the LGBTQ+ ECHO at the Richard M. Fairbanks School of Public Health ECHO Center at IUPUI creates a network of health centers and faculty expertise to increase clinician access to knowledge and support needed to provide culturally-responsible, comprehensive, primary care for transgender, gender non-binary, and sexual minority patients.
This is the first ECHO of its type in Indiana. The inaugural cohort will bring medical and mental health care providers together to share cases, receive advice and learn from expert faculty. Curriculum for this program will include topics such as primary care, mental health, hormone therapy, surgical care, and socioeconomic considerations.
We are currently accepting enrolling new providers for the 2018-2019 program. Click here to join now! Space is limited. The LGBTQ+ ECHO clinics sessions are 90 minutes in duration and are hosted the 2nd and 4th Wednesdays of each month from 2:30-4:00 pm ET. All members of the medical staff are encouraged to join including physicians, mental health providers, physician assistants, advanced practice nurses, nurses, case managers, social workers, etc.
Who should participate?
Providers who are currently providing care to transgender and gender non-binary patients.
Health Center Staff with an ability to commit to 90 minute sessions each month
Providers with an interest in the opportunity to tap into the collaborative power of health center teams and public health experts
Read an invitation letter from the LGBTQ+ ECHO team (PDF file).