New Study On Dairy And Brain Health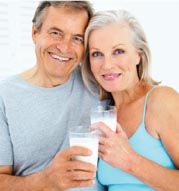 For older adults, the benefits of dairy can be endless. Consuming milk, cheese, and yogurt can lead to improved cardiovascular health, weight management, and stronger bones and muscles. In addition, emerging research found that dairy foods may also be associated with improved brain health.
A recent study was conducted to determine if dairy food intake is associated with cerebral glutathione—a key antioxidant in brain tissue going through oxidative stress and neurodegeneration in aging. Oxidative stress is related to several conditions, including Alzheimer's disease. The study tracked dairy intake and glutathione concentrations in 60 healthy, older adults. Results showed that higher dairy intake was associated with higher glutathione concentrations, suggesting that dairy foods may serve as an adequate source of substrates for glutathione synthesis in the brain. For more studies on dairy and older adults, click here.
The American Dairy Association Indiana (ADAI) offers practical tips, tools and resources to help promote a healthy lifestyle. Visit WinnersDrinkMilk.com for more information and to order nutrition materials. ADAI serves as a resource to provide detailed information about the benefits of dairy and to answer questions that you or your patients may have. Please contact Danielle Sovinski for further information: Sovinski@WinnersDrinkMilk.com
THANK YOU TO THE AMERICAN DAIRY ASSOCIATION INDIANA FOR THEIR SUPPORT OF IAFP ACTIVITIES