Overdoses From U-47700 Increasing In Indiana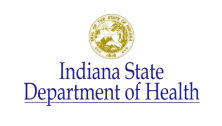 Indiana Health Alert Network Advisory—August 25, 2016
OVERDOSES FROM U-47700 INCREASING IN INDIANA
U-47700 is a synthetic opioid originally developed as an alternative pain medication to morphine in the late 1970s. The drug is 7.5 times more potent than morphine, making it similar to hydromorphone (Dilaudid). Because it is structurally different from morphine, and was never marked or trademarked as a drug in the US, it is legal to buy. Increasing numbers of deaths from U-47700 have been reported in the US, including recent cases in Indiana.
While several states have moved to stop the online sale of this drug, it is still readily available online, and 15-30 grams (sold as either powder or liquid) can be purchased for less than $50. Users commonly snort or inject U-47700. Overdoses present with symptoms similar to other opioids, like heroin: CNS depression, miosis (small pupils), and respiratory depression. In addition, tachycardia and pulmonary edema have also been reported in overdose. Because of the potency of U-47700, larger doses of naloxone may be needed to reverse symptoms in patients. Naloxone (Narcan) is an opioid receptor blocker that reverses the sedation and respiratory failure that can occur in opioid overdoses. In U-47700 cases, providers may need an additional one to two doses of naloxone to reverse symptoms, and providers are encouraged to discuss Narcan availability with local partners. U-47700 is not detected in most hospital urine drug screens. If detection is required, urine samples can be sent to forensic laboratories such as AIT in Indiana (https://www.aitlabs.com/) or NMS labs in Pennsylvania (http://nmslabs.com/).
If you have any patients you think have overdosed on U-47700, please contact the Indiana Poison Center at 1-800-222-1222 and the Indiana State Department of Health Division of Trauma and Injury Prevention at 317-234-2865 or indianatrauma@isdh.in.gov.