Providers Encouraged To Order Testing For Eastern Equine Encephalitis And Other Mosquito-borne Diseases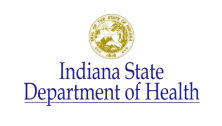 Indiana Health Alert Network Notification – Aug. 13, 2020
Eastern equine encephalitis virus (EEEV) is a reportable mosquito-borne virus that can be transmitted in Indiana by mosquitoes of the genus Coquillettidia. While it is a rare disease, EEEV can cause serious illness and approximately one-third of all cases are fatal. Many people who recover will have severe long-term complications from the infection.
In 2019, multiple states across the eastern United States saw increased EEEV activity. Thirty-eight human cases, including 15 fatalities, were reported to the Centers for Disease Control and Prevention (CDC) from 10 different states. Indiana had one fatal human case reported in Elkhart County in 2019. In addition, one positive mosquito pool was detected in Elkhart County and 14 equine cases were reported from Elkhart and LaGrange Counties in 2019. In nearby Michigan, 10 human cases, including six fatalities, were reported in 2019.
Read the full health alert here (PDF file).