Recent Rocky Mountain Spotted Fever Diagnosis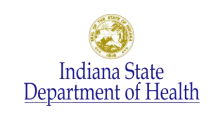 Indiana Health Alert Network Notification – June 16, 2017
Fatal Case of Rocky Mountain Spotted Fever in a Pediatric Patient
The Indiana State Department of Health (ISDH) was recently notified of a fatality in a pediatric patient with a diagnosis of Rocky Mountain spotted fever. Due to the interest in this case, the ISDH would like to provide information on the clinical presentation, diagnosis, and treatment of Rocky Mountain spotted fever, along with some additional recommendations.
Clinical presentation
Rocky Mountain spotted fever (RMSF) is a tickborne disease caused by the bacterium Rickettsia rickettsii. In Indiana, RMSF is transmitted through the bite of an infected American dog tick (Dermacentor variabilis). A delay in disease recognition and initiation of appropriate treatment is associated with severe disease and poor outcomes.
The first symptoms of RMSF typically begin 2–14 days after the bite of an infected tick. The disease frequently begins with sudden onset of fever and headache, with a rash occurring 2–5 days after fever in 90% of cases. Thrombocytopenia, hyponatremia, and elevated liver transaminase concentrations develop in many cases. If not treated, illness can be severe, with prominent central nervous system, cardiac, pulmonary, gastrointestinal tract and renal involvement, disseminated intravascular coagulation, shock, and possible death. Children with RMSF may experience nausea, vomiting, and loss of appetite and are less likely to report a headache. Frequently observed signs and symptoms in children with RMSF are abdominal pain, altered mental status and conjunctival injection. Occasionally, symptoms like cough, sore throat, and diarrhea may be seen in children.
While most people with RMSF (90%) have some type of rash during the course of illness, some people do not develop the rash until late in the disease process. It is important for physicians to consider RMSF if other signs and symptoms support a diagnosis, even if a rash is not present.
Diagnosis
The diagnosis of RMSF must be made based on clinical signs and symptoms, and can later be confirmed using specialized confirmatory laboratory tests. Treatment should never be delayed pending the receipt of laboratory test results, or be withheld on the basis of an initial negative finding for R. rickettsii. Information such as recent tick bites, recreational or occupational outdoor exposure, contact with dogs, similar illnesses in family members or pets, or history of recent travel to areas of high incidence can be helpful in making the diagnosis. The healthcare provider may also look at routine blood tests, such as a complete blood cell count or a chemistry panel. Clues such as a low platelet count, low sodium levels, or elevated liver enzyme levels are often helpful predictors of RMSF but may not be present in all patients.
Treatment
Doxycycline is the first line of treatment for adults and children of all ages and should be initiated immediately whenever RMSF is suspected. The use of doxycycline to treat suspected RMSF in children is standard practice recommended by both the Centers for Disease Control and Prevention (CDC) and the American Academy of Pediatrics (AAP) Committee on Infectious Diseases. Unlike older tetracyclines, the recommended dose and duration of medication needed to treat RMSF has not been shown to cause staining of permanent teeth. Treatment is most effective at preventing death if doxycycline is started in the first 5 days of symptoms.
Recommendations
Ask about outdoor exposure in history, including location and dates of exposure.
Consider tickborne diseases in the differential even if other diagnoses are identified.
Do not rule out tickborne disease if there was no recognized tick exposure. In approximately half of pediatric RMSF cases, there is no recall of a recent tick bite.
Use doxycycline as the first-line treatment for suspected RMSF in patients of all ages.
Order diagnostic tests for additional agents if the clinical history and geographic association warrant. The clinical presentation for RMSF can also resemble other tickborne diseases, such as ehrlichiosis and anaplasmosis. Similar to RMSF, these infections respond well to treatment with doxycycline.
Report tickborne diseases within 72 hours to the local health department of the county where the patient resides (410 IAC 1-2.5-128).
For more information
For questions, please contact Taryn Stevens, Vector-Borne Epidemiologist, at tastevens@isdh.in.gov or 317-234-9727.