Regional Cluster Of Synthetic Cannabis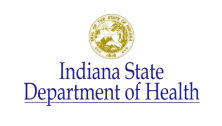 Indiana Health Alert Network Advisory—August 15, 2016
REGIONAL CLUSTER OF SYNTHETIC CANNIBIS
Synthetic cannabinoids, also known as synthetic marijuana, K2, or spice, have been implicated in a recent cluster of patients presenting to Fort Wayne hospitals with tachycardia, hypertension, and severe agitation. One patient suffered a seizure. The agitation was severe enough to require large doses of sedatives, resulting in the need for intubation in the majority of these patients. Patients have not identified a specific name or packaging associated with this product. All have called it spice and stated they bought it in Fort Wayne.
These drugs are laboratory-created chemicals that work at the same areas of the brain as the active ingredient in marijuana. However, unlike marijuana, these chemicals can cause seizures, severe agitation, kidney failure, muscle injury, and death. There have been many such outbreaks across the U.S., including a recent outbreak in New York that resulted in 33 people being sent to the hospital.
Spice and similar agents are commonly sold across the U.S. as a "legal" form of marijuana. Hundreds of different chemicals have been detected in these products, with new compounds being introduced every time a previous chemical is made illegal. The chemicals are typically sprayed onto mixtures of kitchen spices or incense, and individuals using these compounds typically smoke the mixtures.
The majority of these chemicals are not detected in routine urine drug screens; thus, diagnosis requires a high index of suspicion. Treatment is focused on decreasing agitation and tachycardia, with benzodiazepines (e.g., lorazepam) serving as safe and effective drugs to administer. Large doses, and frequent re-dosing, of benzodiazepines may be required in severely agitated patients. Some patients may require use of anesthetic agents, such as propofol, to gain control.
If you have any patients you think have used spice or similar agents, please contact the Indiana Poison Center (1-800-222-1222).
Primary care providers should actively engage in anticipatory guidance with children and young adults about the dangers of synthetic cannabinoids. For more information and FAQ, please refer to: