Reporting Multisystem Inflammatory Syndrome in Children (MIS-C)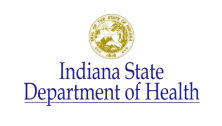 Indiana Health Alert Network Notification – May 23, 2020
Reporting Multisystem Inflammatory Syndrome in Children (MIS-C)
The Centers for Disease Control and Prevention (CDC) released last week a health advisory regarding several reported cases of multisystem inflammatory syndrome in children (MIS-C) that have been associated with novel coronavirus disease 2019 (COVID-19). As of May 22, one confirmed case has been reported in Indiana.
To better characterize this newly-recognized condition in the pediatric population, healthcare providers and local health departments should report potential cases of MIS-C immediately upon first suspicion to the Indiana State Department of Health (ISDH) through the statewide surveillance system, NBS. Providers who do not have access to NBS should report directly to their local health departments. To report a suspected case, enter a Morbidity Report into NBS under the Multisystem Inflammatory Syndrome (MIS) condition. Deaths due to MIS-C should be reported immediately to the ISDH by calling the ISDH 2019 Novel Coronavirus/MIS-C Death Reporting Line at 765-860-6053.
All suspect cases reported through NBS are reviewed at ISDH; only cases that ISDH has confirmed according to the case definition below will be reported to the CDC. Providers who report suspect cases will be notified of case classification by ISDH.
Read the full health alert here, including criteria from the CDC to evaluate patients for MIS-C (PDF file).
For all COVID-19 news and updates that the IAFP has distributed, please click here.