Severe Respiratory Illness Among Indiana Residents Who Reported Vaping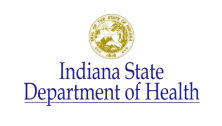 The Indiana State Department of Health (ISDH) has been responding to reports of individuals with severe acute respiratory illness who reported recent vaping or dabbing (vaping marijuana oils, extracts, or concentrates). This follows news from the Wisconsin Department of Health Services (DHS) and the Illinois Department of Health (IDPH) reporting clusters of severe respiratory illnesses seen in teenagers and young adults who had reported vaping in the weeks and months prior to the onset of illness.
Read the full health alert here (PDF file).