Think Talk Treat Migraine
Could Your Patients with Bad Headaches Have Migraine?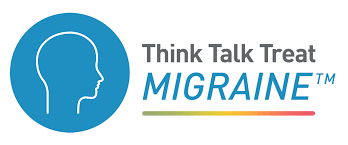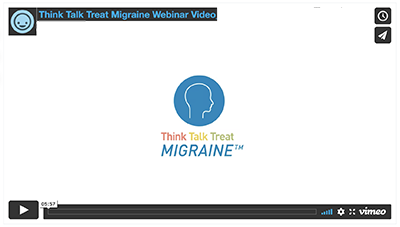 Watch a Think Talk Treat Migraine video here.

Migraine is a common and debilitating disease, yet many are underdiagnosed and undertreated for various reasons. (1-3) Some people with significant disabling headache often do not recognize it as migraine. Others push through the pain or hesitate to talk openly and share their experience with key signs and symptoms of migraine – impact on daily activities, nausea, and sensitivity to light. (1)
While most patients with headache in your office likely have migraine, (4) it can be challenging to ensure proper diagnosis of migraine and determine an optimal treatment plan without direct discussions about how headache is impacting their lives. Fortunately, primary care providers are in the unique and pivotal position to help and there are steps that you can take to minimize the time constraints often seen in clinical practice. The next time you have a patient that presents with headache, remember to THINK, TALK, and TREAT migraine. A simple algorithm can help guide conversations about the impact of migraine:
THINK: Ask patients whether their headaches have limited their activities, if they experience nausea with their headache and/or are sensitive to light. If your patient's answer is "yes" to at least two of these questions, it is highly likely they have migraine. (5)
TALK: Discuss with your patients how many days a month they experience headaches that impact their lives. Understanding the frequency and impact of migraine on daily activities can help inform treatment decisions. •
TREAT: Following diagnosis of migraine, it's important to treat it early and effectively for best results. (5-7) The level of treatment depends on impact to daily activities: For one or more days per month of impact, offer recommended* acute treatment. For four or more days per month of impact, consider recommended* acute plus preventive treatment.
While there is no one-size-fits-all approach to treating migraine, a shared understanding about migraine can help to THINK about, TALK with patients about and TREAT migraine more effectively. For more information and resources, visit ThinkMigraine.com/hcp.
Download the algorithm below here (PDF file)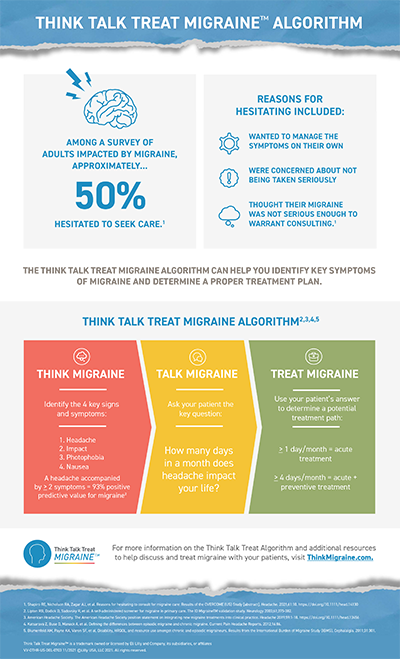 *Recommended medications refer to those with established/probable efficacy as identified by the AAN/AHS guidelines and the AHS position statement regarding new migraine treatments. 8,9

VV-OTHR-US-DEL-0701 11/2021 ©Lilly USA, LLC 2021. All rights reserved.
References:
1. The International Classification of Headache Disorders, 3rd edition. Cephalalgia. 2018;38(1):1-211.
2. Lipton RB, Bigal ME, Diamond M, et al; for the AMPP Advisory Group. Migraine prevalence, disease burden, and the need for preventive therapy. Neurology. 2007;68:343-349.
3. Diamond S, Bigal ME, Silberstein S, et al. Patterns of diagnosis and acute and preventive treatment for migraine in the United States: results from the American Migraine Prevalence and Prevention study. Headache. 2007;47:355-363.
4. Tepper SJ, Dahlöf C, Dowson A, et al. Prevalence and diagnosis of migraine in patients consulting their physician with a complaint of headache: data from the landmark study. Headache. 2004;44:856-864.
5. Lipton RB, Dodick D, Sadovsky R, et al. A self-administered screener for migraine in primary care: The ID Migraine™ validation study. Neurology. 2003;61;375-382.
6. American Headache Society. The American Headache Society position statement on integrating new migraine treatments into clinical practice. Headache. 2019;59:1-18.
7. Buse DC, Greisman JD, Baigi K, Lipton RB. Migraine progression: a systematic review. Headache. 2019;59:306-338. 8. Silberstein SD, Holland S, Freitag F, Dodick DW, Argoff C, Ashman E. Evidence-based guideline update: Pharmacologic treatment for episodic migraine prevention in adults. Neurology. 2012;78:1337-1345. 9. American Headache Society. The American Headache Society Consensus Statement: Update on integrating new migraine treatments into clinical practice. Headache. 2021;00:1-19.