Update On Increase In Syphilis Cases In Indiana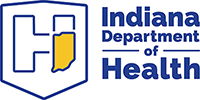 The Indiana Department of Health (IDOH) is alerting healthcare providers of recent increases in adult syphilis cases across the state. These mirror national trends of increases for all stages of adult syphilis. As of October 3, 2020, 892 cases of syphilis have been reported in Indiana, an increase of 22 percent from 2019. So far this year, 70 of Indiana's 92 counties have reported at least one case of adult syphilis, and 24 counties have recorded increases of at least 50 percent from the same timeframe last year— with notable increases in Allen, Clark, Delaware, Johnson, Madison, Marion, Scott and Tippecanoe counties.
Read the full health alert here (PDF file).