Updated Guidance on Outbreak of 2019 Novel Coronavirus (COVID-19)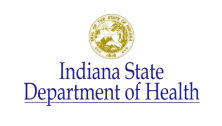 Indiana Health Alert Network Notification – February 26, 2020
Updated Guidance on Outbreak of 2019 Novel Coronavirus (COVID-19)
The Indiana State Department of Health (ISDH) continues to monitor and respond to the novel coronavirus (COVID-19) outbreak. This health alert provides a situational update and current guidance related to COVID-19.
Situational Updates
According to the World Health Organization's COVID-19 situation report as of February 26, 2020, there have been more than 80,000 cases of COVID-19 worldwide with more than 2,600 deaths. Although the vast majority of cases have been reported in mainland China, cases have been reported in 30 other countries. As of February 26, 2020, the Centers for Disease Control and Prevention (CDC) reported 14 cases of COVID-19 in the United States, with an additional 39 cases among repatriated travelers from Wuhan and the Diamond Princess cruise ship. Indiana continues to monitor several medium-risk travelers who have returned to Indiana from China. No confirmed cases have been identified in Indiana to date. Although the immediate health risk to the general American public is low, the CDC is moving from containment strategies to mitigation and is operationalizing pandemic and response plans including specific measures to prepare communities to respond to local transmission of COVID-19. Influenza pandemic guidance is being adapted for the possibility of a COVID-19 pandemic. Healthcare providers, hospitals, local health departments, and EMS are urged to review pandemic influenza plans to assess local readiness, identify gaps, assess personal protective equipment inventories, staffing plans, and surge capacity. CDC has recently updated several guidance documents (see links below) for healthcare providers, public health departments, laboratories travelers, businesses and schools.
Read the full health alert here including travel info, patient evaluation guidance, and more (PDF file).
Download the updated Laboratory Testing Algorithm for Patients with Suspect 2019 Novel Coronavirus (COVID-19) here (PDF file).