Updated: Hepatitis A Outbreak In Indiana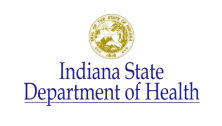 Indiana Health Alert Network Advisory — October 25, 2018
Since November 2017, ISDH has confirmed 578 outbreak-related cases of hepatitis A. Indiana typically has about 20 reported cases in a 12-month period. Two deaths in Indiana have been linked to this outbreak.
Over the past several months, Indiana health officials have been working to educate the public, food service establishments, jails and groups that serve at-risk populations about the outbreak and ways to prevent the disease. ISDH has allocated more than $1 million in additional state and federal funds to supply adult vaccine to local health departments, which are working to immunize those who are at risk of hepatitis A infection or who may have been exposed.
Read more here (PDF file).