Updated PUI Guidance for COVID-19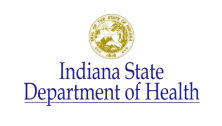 Indiana Health Alert Network Notification – February 28, 2020
Updated PUI Guidance for COVID-19
The Indiana State Department of Health (ISDH) continues to monitor and respond to the novel coronavirus (COVID-19) outbreak. To date, no confirmed cases of COVID-19 have been identified in Indiana.
This health alert provides updated guidance related to persons under investigation (PUI) for COVID-19 (PDF file).
Download Guidance for Clinicians: Evaluating and Managing Patients with Suspected Novel Coronavirus (COVID-19) (PDF file).
Download an updated testing algorithm here (PDF file).