William Cooke, MD, FAAFP, Honored With Two Awards
William Cooke, MD, FAAFP, Honored With Two Awards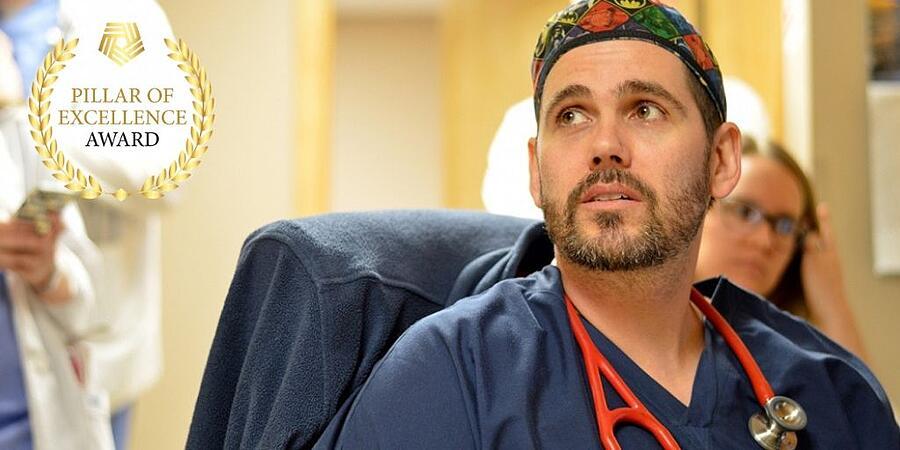 First Physician Ever To Receive Pillar Of Excellence Award

Each year, the Addiction Policy Forum honors those who have made a significant impact in addressing addiction in their communities. These individuals are recognized nationally with Pillars of Excellence awards. This year, Dr. William Cooke became the first ever physician to receive a Pillar of Excellence award.
Dr. Cooke is a family physician, an IAFP member and the AAFP's national 2019 Family Physician of the Year. He grew up in southern Indiana. When he completed medical school he knew where he was needed. "It sounds lofty, but early on I knew taking care of the community was my calling," he remembers. He wanted to go into family medicine, which includes children, adults and everything in between. And he also wanted to stay close to home and serve communities that needed a doctor.
The small town of Austin in Scott County was the answer. It hadn't had a physician since 1977 when the local MD retired. "An entire generation had grown up without access to a doctor," Dr. Cooke says.
Austin is a poor town with a lot of problems. Drug misuse is just one of them. "Austin's drug addiction is rooted in all sorts of negative situations. Toxic stress within the family leads to abuse and neglect. Scott County continues to rank among the state's highest rates of children in foster care per capita. There's very high unemployment, food insecurity, homelessness, and mental illness that goes untreated. Additionally, there are high levels of ACEs (Adverse Childhood Experiences). All of this set the stage for addiction."
Overdose deaths and infections began spiking in 2011.Then, in early 2015, the news rocked America like a bombshell. Scott County, Indiana, tucked in the countryside not far from the Ohio River, was experiencing a horrific outburst of HIV infections. More than 266 cases were diagnosed, many in the tiny town of Austin, where five percent of its 4,000 residents tested positive. Many were also infected with Hepatitis C.
By this point, Dr. Cooke had been in Austin for ten years. He knew the community, which enabled him to understand what people were going through as well as what was needed. "You couldn't just deal with the disease," he explains. "You had to understand their lives. You couldn't just address the HIV; we needed to take a whole-person approach. It's a syndemic, not an epidemic. These are human lives and they matter. Patients would come in and pour their hearts out to me. It was an overwhelming feeling to not be able to help them. I could only give them sympathy; there simply wasn't any place for them to get mental health or addiction treatment."
But things changed as agencies and groups began working together. A local addiction services group created a ROSC (recovery-oriented systems of care) that has helped over 1,000 people. Support groups grew from just three to 19 at present. The recovery community is developing an organization utilizing space provided by a local church.
Even Dr. Cooke's practice has evolved. He now uses Project ECHO, a telemedicine training tool to treat patients with complex health needs such as HCV/HIV. He's learned how to address pain without opioids. Best of all, he's able to help his patients address their root issues. "Now, when someone is bearing their soul, I can get them connected to the resources they need." He even hired a second physician to join his practice.
The HIV outbreak may have been the motivator for change, he says. But it went much deeper than just treating the infections. "Now people can live, survive and thrive. Families are back together. It's a beautiful thing to see."
His advice to other doctors serving rural communities? "Understand the difference between disease-oriented and patient-centered approach. Stay open, don't go into it believing you have all the answers. Don't come at a problem with a preconceived solution. You can get all the numbers and treatment right, but the patient still may not do well. You need to know your patient and get to understand who they are and help them be the best version of themselves. Help them get the most access to care and opportunity. And above all, listen to them."
Dr. Cooke's work serves as a shining example to the nation on how to handle addiction in a rural setting. He exemplifies what it means to be a pillar in the community. Dr. Cooke was named the 2019 Family Physician of the Year by the American Academy of Family Physicians. Now, it is Addiction Policy Forum's honor to also call him a Pillar of Excellence Award winner.
In addition, Dr. Cooke has been awarded the 2019 Ryan White Distinguished Leadership Award. This award was created in 2009 by the Rural Center for AIDS/STD Prevention (RCAP) to honor Ryan White and persons who have made significant, national, and/or international achievements in HIV/AIDS prevention. The 2019 award was presented to Dr. Cooke on Thursday, December 5, 2019 at the Indiana Memorial Union in Bloomington, IN. Special guest and mother of Ryan, Jeanne White Ginder, attended this event. Dinner was served followed by Dr. Cooke's lecture and a dessert reception.